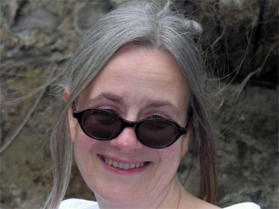 Paranormal Romance and Fantasy Writer Marie Treanor
Marie Treanor lives in Scotland with her eccentric husband, three much-too-smart children and a small puppy who rules them all. Having grown bored with city life, she resides these days in a picturesque village by the sea where she is lucky enough to enjoy herself avoiding housework and writing sensual stories of paranormal romance and urban fantasy – with a bit of science fiction and time travel thrown in.
Marie is the award winning author of over forty sexy paranormal romances – Indie, New York and E-published. Since childhood, she has always written stories, at first secretly and for her own amusement, later with more serious intention to earn a living by writing. After working as a researcher and a librarian, she was lucky enough to have her first romances, GHOST UNLAID and QUEEN'S GAMBIT, immediately accepted by an e-publisher in 2004. Since then, she has published continuously, most notably with NAL, Samhain, Changeling Press, Ellora's Cave and The Wild Rose Press. She now writes full time.
In 2010, she made her New York publishing debut with BLOOD ON SILK, first of the award winning Awakened by Blood vampire romance trilogy. Reviewers have described her undead anti-hero Saloman as the best vampire in the genre. Most recently, she has been trying her hand at self-publishing, with three new paranormal romance series, Serafina's, The Gifted, and Blood Hunters (a sequel series to Awakened by Blood).
When not writing, Marie can generally be found among the chaos of her family, or walking the dog on the beach in all weathers. She loves to travel  and meet new people.
Marie is represented by Robert Gottlieb and MacKenzie Fraser-Bub of Trident Media Group.